Last Thursday night, I went for a dessert tasting at Canoe. A friend of mine who also frequents Canoe knows the chefs there, who got them to organize a special dessert tasting just for us. All the desserts we tried are still unavailable on their menus (except the Japanese Rice Cake). It was a great night! I met some new friends and had a 6-course dinner of all desserts at one of my favourite restaurants, with the perfect view.



My friend and I were the first ones there.


Robert Gonsalves is the pastry chef there. After he came out to introduce himself and explain a bit about the desserts, we started with the first course.


First Course: Floating Island (with poached meringue, roasted rhubarb and pistachio cream). I really loved this one, just wish it was a bigger portion.


Second Course: Baba (with lemon sabayon, poppy seed cream, fennel pollen meringue). I loved the meringue. The balls were filled with/soaked entirely in Screech Rum. They were way too strong. I was only able to eat half of one.



In between the courses I took more photos of our beautiful view..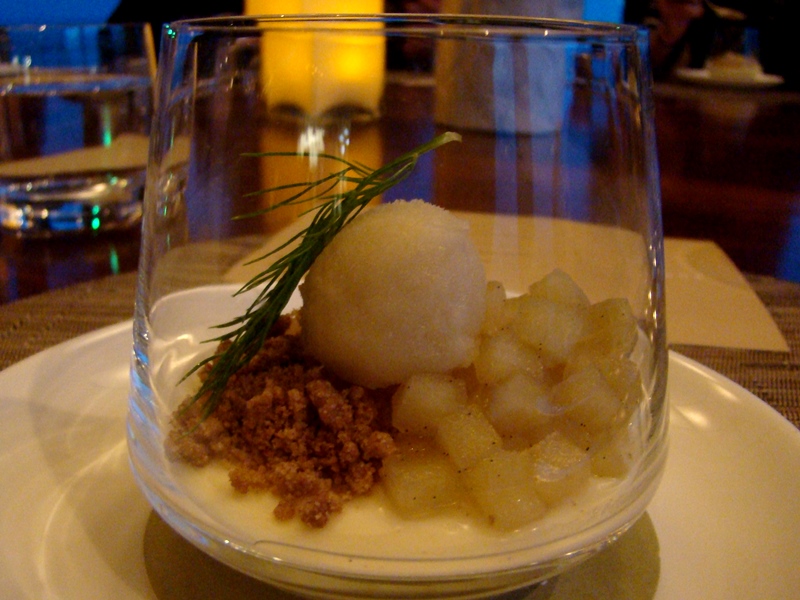 Third Course: Apple Verrine (with poached green apple, iviore emulsion, cinnamon crumb). Everyone loved this one. It was one of my favourites as well (I love all apple desserts!). A variety of textures and temperatures combined to create a delicious dessert which tasted similar to apple crumble - only better!


Fourth Course: Japanese Rice Cake (with Okanagan hazelnuts, green tea custard and red bean sherbet). I believe this one is currently available to order on their menu. This was another favourite of mine. The "rice cakes" are nice and chewy.


Fifth Course: Canoe Chocolate Bar (with puffed rice, banana butter and smoked marshmallow ice cream). The smoked marshmallow ice cream was my favourite part. I didn't like the rest of it too much. It's very very very chocolatey (& I'm not really into chocolate)



Sixth Course: P.F (with white chocolate & black fig mendiant) Loved these macarons!
FACEBOOK | TWITTER | INSTAGRAM | BLOGLOVIN'
This post archived in:
Toronto