I'm finally back with another post! I can't believe now we're down to our last 10 days in Koh Samui and I only managed to make one post of it here so far. I've been so busy these days with work but I will try my best to update more often. So this is going to be another Bangkok post.
We discovered Wat Samphran (aka Dragon Temple) thanks to Instagram. It looked like such a surreal building and unique place to visit. It's not a popular tourist spot yet. I feel it isn't as well-known, plus it's about 45min away from central Bangkok so not everyone has the time for it. We took a taxi/Grab to go there one day and on the way it started pouring rain. About halfway, we asked the driver to turn back as the roads started flooding a bit and it didn't look like the rain would stop anytime soon. So of course, shortly after turning back, the rain stops and by the time we arrived back in Bangkok it was sunny again lol. Then we decided to attempt it again another day and succeeded. It was a Thai national holiday/Songkran so there was more people than usual (well busy for COVID standards). It was a really cool place. I'm so glad we decided to go again as it's one of the most unique buildings I've ever seen.
The dragon's body is a hollow tunnel that you walk through to reach the top. It's on an incline so it's less tiring than stairs I suppose. Since it's a temple, we couldn't wear our shoes inside. The tunnel is all concrete so it was a bit uncomfortable to go through just in socks. But it wasn't too bad. The entire walk was maybe 20 minutes.
I don't think these elevators have ever worked. The only way up is through the dragon's body


Entrance to the tunnel lol


This is what the tunnel looks like. A bit creepy but at least it's well lit.


View almost at the top


After exiting the tunnel, you end up here directly under the dragon's head. There's a lot of temple "activities" you can do like throwing coins up and trying to get it in the buddha's bowl. I was pretty bad at it.
At the highest point we could walk up to sits another buddha. It wasn't as nice from this angle though (best view is from the drone shot in the first photo).
There's a giant turtle on the complex that you can walk into (nothing interesting inside though). I think some monks live there.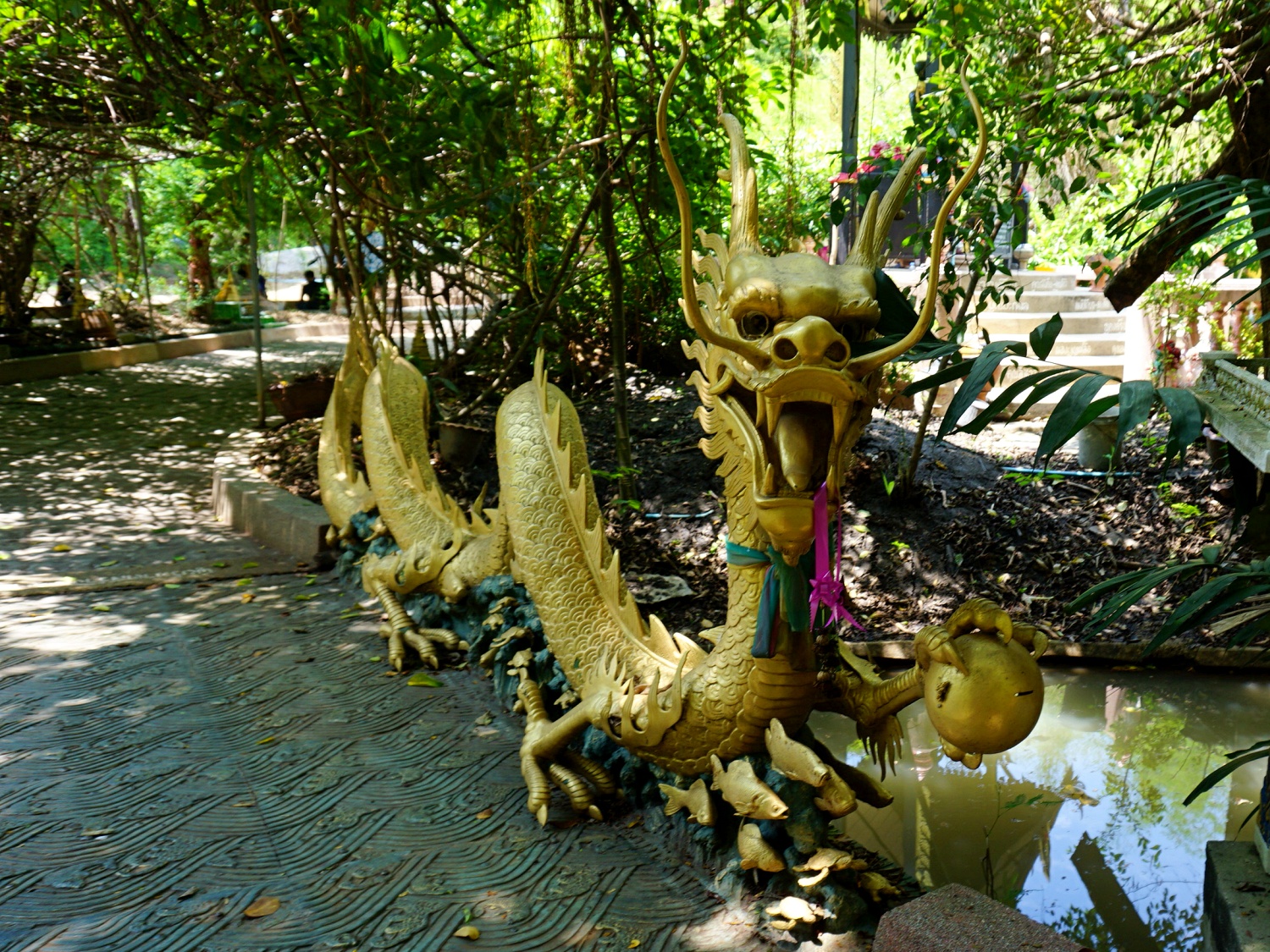 A dragon fountain with different spots you can throw your coin into for good luck (in different aspects of your life). I had better aim here and managed to get it inside the mouth! "If throw the coin in the dragon mouth whom have power will support" - not exactly sure what it means though.
FACEBOOK | TWITTER | INSTAGRAM | BLOGLOVIN'